Annual Reports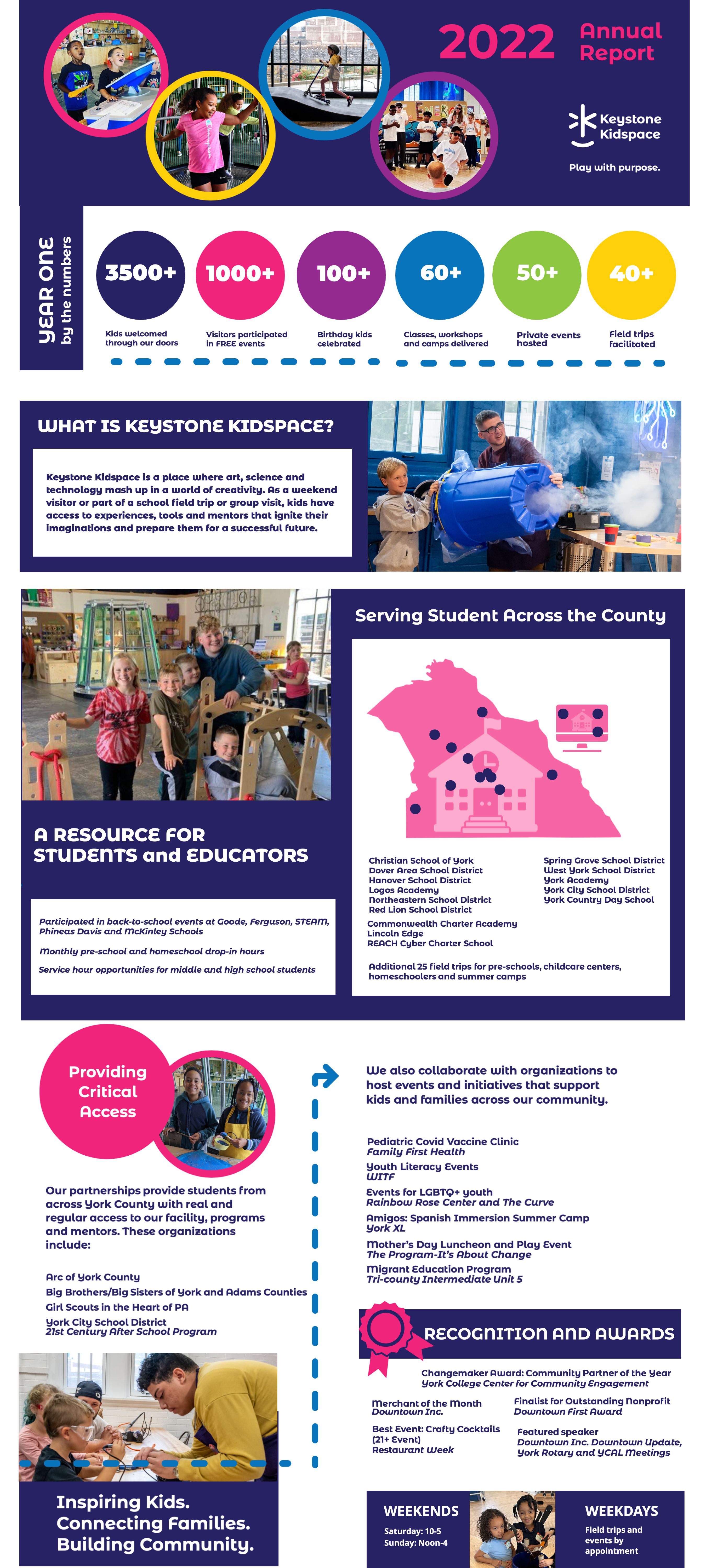 WHAT IS KEYSTONE KIDSPACE
Keystone Kidspace is a place where art, science and technology mash up in a world of creativity. As a weekend visitor or part of a school field trip or group visit, kids have access to experiences, tools and mentors that ignite their imaginations and prepare them for a successful future.
A RESOURCE FOR STUDENTS AND EDUCATORS
Participated in back-to-school events at Goode, Ferguson, STEAM, Phineas Davis and McKinley Schools
Monthly pre-school and homeschool drop-in hours
Service hour opportunities for middle and high school students
SERVING STUDENTS ACROSS THE COUNTY
Christian School of York
Dover Area School District
Hanover School District
Logos Academy
Northeastern School District
Red Lion School District
Spring Grove School District
West York School District
York Academy
York City School District
York Country Day School
Commonwealth Charter Academy
Lincoln Edge
REACH Cyber Charter School
Additional 25 field trips for pre-schools, childcare centers,
homeschoolers
PROVIDING CRITICAL ACCESS
Our partnerships provide students from across York County with real and regular access to our facility, programs and mentors. These organizations include:
Arc of York County
Big Brothers/Big Sisters of York and Adams Counties
Girl Scouts in the Heart of PA
York City School District, 21st Century Program
INSPIRING KIDS. CONNECTING FAMILIES. BUILDING COMMUNITY.
We also collaborate with organizations to host events and initiatives that support kids and families across our community.
Pediatric Covid Vaccine Clinic Family First Health
Youth Literacy Events, WITF
Events for LGBTQ+ youth, Rainbow Rose Center and The Curve
Amigos: Spanish Immersion Summer Camp, York XL
Mother's Day Luncheon and Play Event, The Program-It's About Change
Migrant Education Program, Tri-county Intermediate Unit 5
RECOGNITION AND AWARDS
Changemaker Award: Community Partner of the Year, York College Center for Community Engagement
Merchant of the Month, Downtown Inc.
Best Event: Crafty Cocktails (21+ Event), Restaurant Week
Finalist for Outstanding Nonprofit, Downtown First Award
Featured speaker:Downtown Inc. Downtown Update, York Rotary and YCAL Meetings